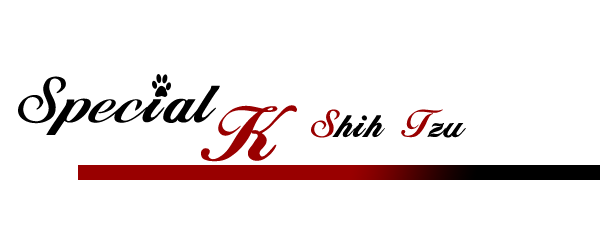 We are the Krebs family, located in Islip Terrace, New York.

Raising our Shih Tzu babies is our family project. With my husband
and my boys, our goal is to raise healthy and happy puppies. You will
see them from time to time in show rings, validating that we are breeding
as close to the standard as A.K.C. allows. We are a hobby breeder.


We love our puppies so it's a great accomplishment when we are able to
send them home with families that are looking for a puppy to love because
that is what Shih Tzu's are all about. They are loving like a little person.





If you have any questions please email me

Or call me at 631-637-8171

T

he

S

hih

T

zu

Member of the
Toy Group

Sturdy

Double Coated

Intelligent

Alert

Friendly

Independent

Stubborn

Affectionate

You can't buy loyalty,
they say.
I bought it though,
the other day.
You can't buy friendship
tried and true.
Well, just the same,
I bought that too.
I made my bid and on
the spot bought love
and faith and a whole
job lot of happiness.
So all in all the purchase
price was pretty small.
I bought a single trusting
heart that gave devotion
from the start.
If you think these things
are not for sale....
buy a brown-eyed puppy
with a wagging tail.
Last Updated June 26, 2020
Copyright © 2012 Special K Shih Tzu
Banner ad's are not necessarily supported by Special K Shih Tzu
Website designed and maintained by Canis Designs